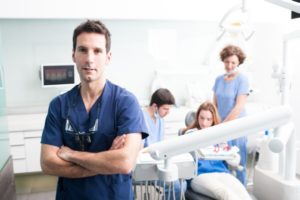 There is no need to be self-conscious about missing teeth. There are many cosmetic dentistry options that can be used to help you restore your smile and confidence. It's only a matter of talking to your dentist and figuring out what the best solution is.
Your smile is one of the first things people notice about you, so you certainly don't want to neglect it. Studies show when your teeth are in good condition, people assume you're younger, more successful, and friendlier. Most people wouldn't complain if people were prone to making such assumptions about them.
Missing Teeth Dental Solutions
Let's take a closer look at 3 popular solutions for missing teeth and what their pros and cons are:
1. Dentures
Dentures are one of the most affordable solutions when it comes to missing teeth, especially if you're missing most of them. The prosthetic consists of two parts, artificial teeth that look like your natural teeth and a structure that connects it to your gumline. There are also implant supported dentures that are attached to implants.
Pros:
Cheap

Looks natural

Allows you to chew and speak properly
Cons:
Takes a while to get used to

Bottom jaw dentures are prone to shifting

Regularly needs to be realigned as your face grows

Has tedious maintenance requirements

Doesn't address the bone deterioration that comes with missing teeth
2. Bridges
Dental bridges are used to address gaps in your teeth. The device is typically attached to crowns that are placed on the two teeth that are closest to the edges of the gap. Dental bridges are a permanent solution, so once the device is installed, you will need an oral professional to remove it.
Pros:
Looks natural

Not invasive

Relatively easy to clean and maintain

Restores ability to chew and speak
Cons:
Puts additional stress on the anchor teeth

Doesn't prevent bone tissue loss

Not as sturdy as some of the other solutions
3. Implants
Implants are arguably the most effective way to deal with missing teeth. Implants don't just restore your smile, these devices also imitate the behavior of your teeth's natural roots, keeping bone loss at bay. Implants allow you to restore your smile and get back to life as usual.
During the first stage of getting implants, a rod – typically titanium – is inserted into your jawbone. It is then given a few months to heal and fuse with your jawbone tissue. Finally, a crown is attached to the external-facing part of the implant.
Pros:
Stimulates your bone tissue

Allows you to chew and speak properly

Permanent solution

Looks natural

Easy to maintain

Very secure
Cons:
Not ideal for people missing all of their natural teeth due to the price

An invasive procedure that takes months from your first appointment to a crown being attached
These are only a 3 of the cosmetic dentistry treatments that are often used to address missing teeth. If you're looking to restore your smile, contact Queens Family Dental to learn more about these and other options.
Request a dental appointment here: https://www.queensfamilydental.com or call Queens Family Dental at (718) 690-9597 for an appointment in our Astoria dental office.
---
Related Posts
December 6, 2018
Regular visits to the dentist are important to maintain good oral hygiene. Dentists are able to address any oral or dental issues that a patient is experiencing.Teeth grinding, otherwise known as bruxism, is a common …
---