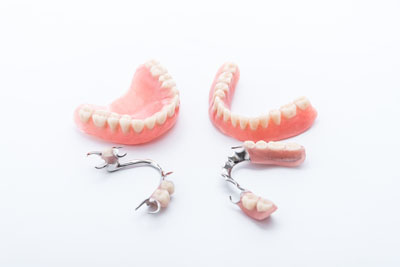 Dentures are one of the most affordable ways to replace missing teeth. Traditional dentures are designed to rest on your gums, but there is now a more secure option known as implant-supported dentures. These dentures are attached to dental implants in your mouth rather than resting them on your gums.
Implant-supported dentures are typically used when a person is missing all of their natural teeth but still has enough bone tissue in the jaw for the implant. The external-facing part of the implant has attachments that are used to securely fasten it to your dentures.
Implant supported dentures are generally reserved for the lower jaw since it's harder to secure traditional dentures against your lower gums. Traditional dentures tend to form a tighter fit with the upper jaw, so there isn't as much need for implant-supported dentures for your upper jaw.
Just as is the case with traditional dentures, your implant-supported dentures should be removed and cleaned daily. If you're looking for a more permanent solution for your missing teeth that doesn't have to be removed and cleaned daily, consider getting crowns or bridges.
Let's take a look at 5 questions you should ask yourself if you are considering implant-supported dentures:
1. Would traditional dentures be just as effective?
As discussed above, there's no point getting implant supported dentures if traditional ones can get the job done. Traditional dentures are a lot cheaper, and it does require surgery to place implants in your jawbone. That's why implant-supported dentures aren't often used for your upper set of teeth as traditional ones are just as secure in your mouth.
2. Like traditional dentures, does it require daily maintenance?
Implant supported dentures have to be removed and cleaned daily if you want to prolong the prosthetic's life. Do not sleep with implant-supported dentures unless your dentist says it's safe to do so.
3. Are implant supported dentures good for your jawbone?
When you're missing teeth, your jawbone begins to deteriorate. That's because it's no longer stimulated by your teeth roots. Implants allow you to mimic the way your teeth roots interact with your jawbone. The implants will keep your bone tissue intact and preserve your facial structure.
4. Do implant-supported dentures ever need to be replaced?
The main difference between implant-supported dentures and traditional ones is the way they are fastened to your mouth. As far as the materials these devices are made out of, both are very similar. That means, just like traditional dentures, your implant-supported ones will eventually wear down over time. What you can do is prolong its life by properly maintaining it.
5. Are implant supported dentures easier to get used to?
Yes, they are to an extent. Implant-supported dentures fit securely inside your mouth, so there is no shifting around when you speak and talk. That makes it a lot easier for you to perform everyday tasks like chewing and speaking.
Contact Queens Family Dental to learn more about the different types of dentures.
Request a dentures dental appointment here: https://www.queensfamilydental.com or call Queens Family Dental at (718) 690-9597 for an appointment in our Astoria dental office.
---
Related Posts
March 7, 2019
Implant-supported dentures are a great way to enjoy the many benefits associated with implants without having to hand over an arm and a leg. Talk to a dentist, and they will tell you that implants …
---